Is your laptop's WIFI not working on Windows 7? If yes and you are worried about this issue then you are on the right site. Here I will show you some solutions to Windows 7 WIFI limited access issues in Laptops. This is a very common problem that occurs to many people who use laptops. I have also a laptop which has some problems but after researching these problems I have found the solution to them.
You see many other websites or videos where people have said to uninstall laptop drivers. But it did not solve the problems of many people and by doing so, on the contrary, their Wi-Fi stopped working. This problem has become very common and people are not finding a solution to this problem. Here are some steps you can take to begin the process of preparation for mediation.
WIFI Limited Access Issue in Laptop Solve
First of all, you have to turn off your computer or laptop and see if it is solved. If this solves the problem, then follow the other steps. This Wi-Fi problem occurs for other reasons.
Router Issue
Your Laptop Drivers
Battery Saver
DNS Issue
1. Router Issue
---
It is possible to have an issue with your Router. sometimes many of the routers' signals mismatch and did not provide internet. So, you have to need to check the internet on other laptops and devices. If other devices are working perfectly then maybe your laptop has an issue and it needs to fix as soon as possible to use the internet.
Restart your Wifi Router and see the changes. If the same problem occurs then disconnect the wifi and reconnect it with this Wifi. Turn on the Hotspot shield of your mobile phone which has an internet connection. Connect your laptop to its Wifi and check the problem. If the problem is repeated then you need to fix your Laptop issue which may be drivers and DNS and also Battery saver may be stopping the internet.
2. Laptop Drivers
---
Check whether the laptop drivers are updated or not. You have to need to check laptop drivers by going on the My Computer and right-clicking on it. Click on the Manage option and click on device manager as shown in the Screenshots.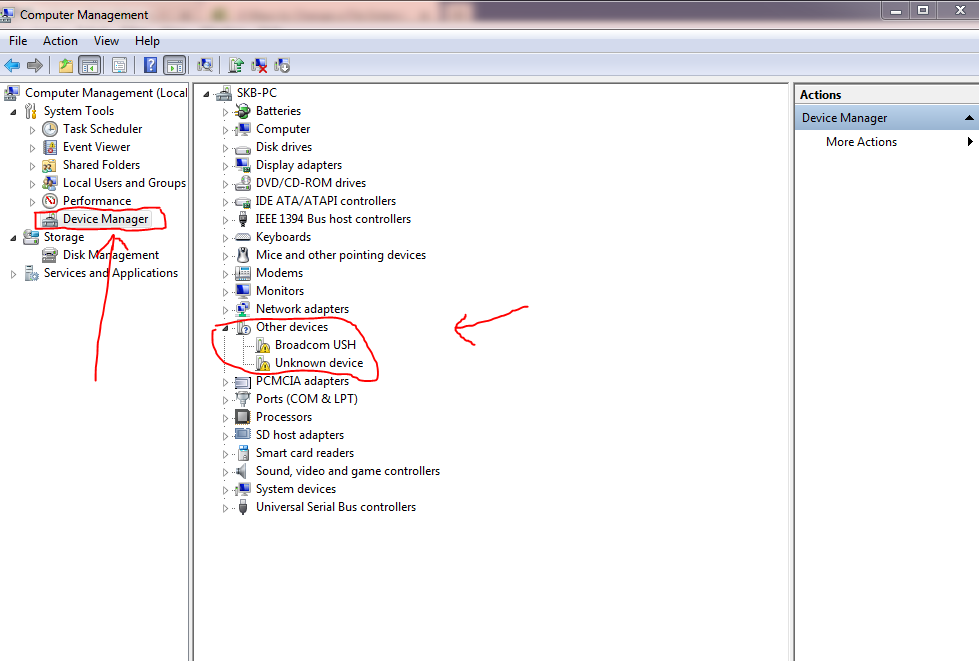 You can now see that some of the drivers are missing and outdated. You need to update these drivers. Use any driver installer and updater software to update these drivers. If you have an internet connection activated on your PC or laptop then you can update them automatically by clicking right-click on it and searching online drivers.
After installation of the latest drivers your need to restart your laptop or pc. The Limited access should now solve. If not then try another method.
3. Battery Saver
---
The most common problem with laptops is due to the battery saver. If our laptop's battery is low and we haven't connected the charger to it yet, this battery saver limits the use of Wi-Fi to save the battery. Wi-Fi consumes a lot of battery, so the laptop's battery-saver software stops Wi-Fi from running and accessing it until a charger is connected to it.
This problem is more common in older laptops. Because their software is not up to date, it automatically shuts off and on. So to avoid this you have to connect your laptop to the charger.

Then go to the battery menu which you will see at the bottom and click on its more powerful option. then a new window will open as shown in a given image.
Select the Balance Mode or if the limited access problem is not solved then use the high-performance option. Disconnect the wifi and reconnect it, the WIFI will start working now.
4. DNS Issue
---
DNS issues can be caused by both your laptop and your Wi-Fi router. If fixing the battery saver still doesn't solve your problem, restart your router first. Turn on Wi-Fi again and try to connect. It will connect. Go to the laptop's troubleshot and check the Wi-Fi to see if there is a problem. This will let you know if there is a problem with your router or your laptop. Once the problem is known, it will try to fix it automatically. The DNS issue is resolved If written, your router may have a problem.
You need to contact your internet service provider to resolve this issue. Usually, this problem can be solved with the help of troubleshooting. Every computer has this option and it confirms what the problem is. If your laptop is Core 2 Due, you need to keep its drivers updated at all times. Because many people did not update their Wifi drivers so their laptop performance did not go slow down. If you have any other issues related to this you can ask us in the comments.