Are you travelling to the UAE? If yes, this blog post can help you get a free tourist SIM card in Dubai. There are currently two largest telecom networks in the UAE, of which one is Etisalat, the second is DU, and the third is Virgin, which is a virtual network. Both networks have budget-friendly plans for visitors and residents. If you go to the UAE for 30 days, 15 days, or any other period, you must compare SIM card prices and plans.
Both companies provide free SIM cards at the airport in Dubai, UAE. There are some limitations to free SIM cards that you should know about. If your flight arrives at any other airport, like Sharjah, excluding Dubai, then you will lose the free SIM card offer.
How to Get a FREE SIM card in UAE Dubai Etisalat or DU
People travelling to the UAE find it difficult to decide which SIM card is best for them. Because they have to call at the airport and inquire about their family's well-being, they need a SIM with a limit on calls. Etisalat's Unlimited international calling plans can help you connect with your friends and family cheaply.
DU FREE SIM Card Offer UAE
DU offers Free SIM cards at the Dubai Airport and on its official website. Travellers can easily book DU SIM cards online by visiting the DU tourist page. With the Free DU Tourist SIM, users will get 1 GB of Free internet data that can be used for 28 days.
DU SIM CARD PREPAID PACKAGES
Customers will get 2GB of data and 30 Flexi minutes with the Du Tourist SIM. Customers must pay 49 AED for this plan because the SIM card is FREE.
DU Tourist SIM 6GB Data Offer
If customers want more internet, they have to choose one of the other plans. In the second plan, Users will get 6GB of data, 30 free Flexi minutes, and free internet calling for 99 AED, including 5% VAT, for 28 days.
Facebook and WhatsApp are banned in the UAE, so you cannot use them. In the UAE, Botim and C'me apps are mostly used. DU offers free, unlimited voice and video calls on Botim and C'me.
DU Tourist SIM 10GB Data Offer
Customers can get the 10GB data offer on a DU tourist SIM card for more data. Because SIM cards are free, you have to pay only plan charges. With the DU 10GB data offer, travellers will get 10GB of data, 30 Flexi Minutes, and unlimited free internet calling. The cost of the 10GB plan is AED 139.
20GB Data Offer
The DU Tourist SIM 20GB data plan price is AED 189, including VAT. With this plan, users will receive 20GB of data, 30 Flexi minutes for voice calls, and free unlimited internet calling on Botim and the C'me app. This plan is valid for 28 days, and users can reactivate the same plan after recharging AED 189.
DU Unlimited Internet Plan on Tourist SIM
People who download a lot need an unlimited internet plan. The unlimited data plan on the DU SIM is priced at 299 AED. The validity of this plan is only ten days, after which users will have to reactivate a plan to use the internet. There are no Flexi minutes for calling, but you will get unlimited free internet calling for ten days. Customers do not need to activate the Du social package to call.
If you have come to stay in Dubai for a few days, you should choose a 6 GB data plan. There are no free calls in the tour plan for calling abroad, but there are free calling plans. It allows you to stay in touch with your loved ones all the time through the Botim or C'me apps.
Etisalat UAE Tourist SIM Card Plans and Prices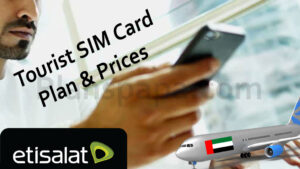 Etisalat is used in many countries around the world. This network is widely used in Dubai. People from abroad prefer Etisalat Dubai, UAE, as it offers various packages.
Etisalat's Tourist Plan offers free calls, messages, and Dubai Wi-Fi. When customers buy a new Etisalat SIM, they get free internet calling, allowing them to stay in touch with their loved ones through Botim and other supported apps. Etisalat UAE internet packages are available at all prices. The user can create and activate packages for 1 day, 5 days, 7 days, months, and all kinds of durations. The Visitor Line has plans ranging from 60 AED to 400 AED.
The lowest prepaid tourist visitor line price is 49 AED, for which users will get 2GB local data, 30 Flexi minutes, Smiles buy 1 and get 1 free, and 100 AED free Careem credits for 28 days. Other offers provide 4GB of data and 30 Flexi minutes for 79 AED.
Etisalat UAE offers a Visitor Line Premium+ offer if you want more data. This offer provides 22.5 GB of data, 525 Flexi minutes, 30 hours of Free WIFI, and unlimited free Go Chat data for 200 AED, incl. VAT at 5%. This plan is valid for 28 days.
Customers can manage their account plans and recharge by dialling *121#. Etisalat UAE prepaid users can make calls in 179 countries at AED 2.52/minute and send messages at AED 0.63/SMS, whose local rate is AED 0.19/SMS.
Virgin Tourist SIM UAE
Virgin is a virtual mobile phone network in the United Arab Emirates (UAE). Virgin offers a tourist plan for 7 days, 10 days, and 15 days. The 7-day Virgin UAE plan price is AED 150, the 10 Days plan price is AED 200, and the 15-day Virgin UAE plan is 300 AED.
| Call Minutes | Internet Volume | Validity | Price |
| --- | --- | --- | --- |
| 30 Local & 20 International Minutes | 21 GB (3GB/Day) | 7 Days | AED 150 |
| 30 Local & 20 International Minutes | 40 GB (4GB/Day) | 10 Days | AED 200 |
| 30 Local & 20 International Minutes | 75 GB (5GB/Day) | 15 Days | AED 300 |
With a 7-day Virgin Plan tourist SIM, users will get 30 local and 20 international call minutes. Exclude these, and customers will get 21 GB of data.
Virgin Mobile UAE tourist SIM 10 days plan offers 40 GB of data (4GB/day), 30 local, and 20 international minutes. The price of this plan is AED 200, including the SIM card.
The 15 Days Virgin UAE Tourist Plan offers 75 GB of data, 30 local minutes, 20 free international minutes, and a free Botim app for just 300 AED.
Which is the best UAE Tourist SIM Card Compare Table
Here we have compared Etisalat UAE and DU UAE tourist plans so that users can understand and choose the best network.
| Etisalat UAE | DU UAE |
| --- | --- |
| 2GB+30 Flexi Mins AED 49/mon | 2GB+30 Flexi Mints AED 49/mon |
| 4GB+30 Flexi Mints AED 79/mon | 6GB+30 Flexi Mints+Internet Calling AED 99/mon |
| 8GB+120 Flexi Mints+5 Hours WI-FI AED 125/mon | 10GB+30 Flexi Mints+Internet Calling AED 139/mon |
| 22.5GB+525 Flexi Mints+30 Hours WI-FI AED 200/mon | 20GB+30 Flexi Mints+Internet Calling AED 199/mon |
| Unlimited Internet + 100 Flexi Mints AED 319/10 Days | Unlimited Internet + Internet Calling AED 299/10 Days |
Whenever you go to Dubai, you will see a lot of Wi-Fi instead of mobile phone towers. If you are in a place where Wi-Fi signals are coming, then you will get them at a very low rate. SIMs can only be used where Wi-Fi is not available.
Final Words About UAE's Best SIM Cards:
You have to decide which SIM card is best for you. If you want to buy SIM cards, all companies have introduced an online booking system. Free SIM users who want to buy a Free SIM card can buy a free DU SIM card, but they have to pay a plan fee of 49 AED. If you come to the UAE for a maximum of 15 days, you can choose the Virgin network. The table of comparisons is given above, and you can choose the best network for you.