Are you looking to Check the Mobile IMEI Numbers in Pakistan? If yes then this post is for you. Here I will show you the complete method to check the IMEI number in Pakistan of any mobile phone. In 2019, The Govt start blocking unverified mobile phones in Pakistan which are not approved and not verified by the PTA.
People started getting upset after hearing this news and started checking their mobile phone is it a registered mobile or not by checking the IMEI. But people do not know how to find out the IMEI of a mobile phone whether it is registered or not. Here I will show you how to check the serial number / IMEI number of any mobile phone.
You May Also Like: How to Change Ownership of Any SIM in Pakistan
Check Mobile IMEI Number in Pakistan
To check that is your mobile phone register or not you have need to know about your mobile phone IMEI number which is located on the backside of your phone. You can also check it by dialing a short code *#06#. First of all note both SIM IMEI numbers and follow this process.
Check IMEI from PTA Website
Go to the PTA official DIRBS website
Dial *#06# from your phone and note its IMEI number
Enter the 15 Digit IMEI number in the website and verify the captcha then check
Your mobile phone details will show on the screen with registerd and non-registered status.
Check IMEI by Message
You can check the IMEI number by sending 15 Digit IMEI number to 8484. You will receive full information of your mobile phone status by SMS.
---
Your mobile device is Compliant (PTA Approved/Registered)

If the status of your mobile phone is showing exactly like this, then understand that your mobile phone is registered with PTA. You do not need to worry because your mobile phone will not be blocked.
---
Your mobile device is Valid, not Approved/Registered by PTA
If your mobile phone IMEI status is showing the same this then its IMEI is not registered. You have to need to register it by contact PTA Dirbs. You can check mobile phone tax by dialing *8484#. For travelers who are coming from other countries can register mobile phones for free on their passport by dialing *8484#.
---
How to Check the Mobile Phone Duty Tax
PTA has introduced an online tax checking facility for people of Pakistan for all people in Pakistan and also those who are coming from abroad. Now you can easily get tax information by entering the IMEI number of your mobile phone. All you have to do is visit the PTA website and go to its Menu "Click on Individual mobile duties". A new window will open in front of you from which you can easily enter the IMEI of your mobile phone and find out the tax fee. Here are the details to check mobile phone tax PTA.
Open the PTA DIRBS Website
Open the PTA DIRBS website page by searching "PTA DIRBS" or by clicking here. You will see PTA official website where you can check the mobile phone IMEI number. Here is another link that you have to need to open in a new tab as the name of "Know Individual Mobile Duties Via FBR" from mobile or laptop as shown in the screenshot.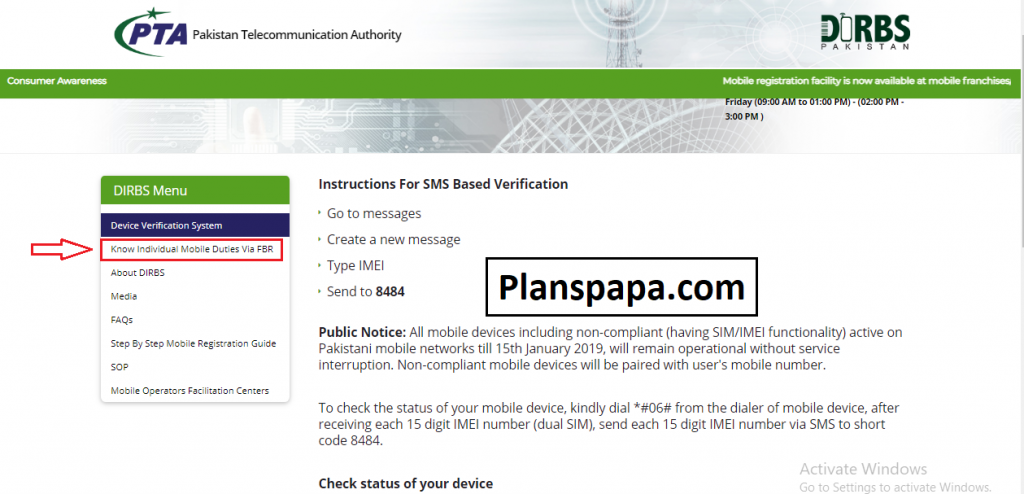 When you will click on this link it will open in a new tab where you can check the IMEI number of your mobile phone like this.
It is free and you can check any mobile phone tax without any hassle. You have never need to go to any franchise, Mobile shop, and to any person to check the Tax information. I hope your problem is solved. People who want to get their mobile phone tax information can easily check their mobile phone IMEI number from their mobile phone or computer. Also, for those people whose mobile phone has one IMEI registered but not the other, I will make another post where I will tell them how to unblock another IMEI. So keep visiting this website regularly.